Some Books for a Children's Library
This is an updated version of a post I wrote some time ago, when two people were thinking of starting an NGO in Calcutta for underprivileged children and wanted recommendations for children's books.
We lived in a tiny flat for most of my childhood and it overflowed with my parents' papers (they are both in professions that require the use of a lot of paper) and their books. If they were interested in something they bought the book.
While my father was the one who made up stories to tell us every night, I owe my love of books to my mother. My mother would receive cheques in the mail for her work, paltry sums, but the cheques would cause much excitement, because they meant a visit to the bookshop. Mum would open the envelope, do a little jig around the room with me ( I would already be hopping and down with excitement) and a couple of days later we would be off to Strand Book Stall whose redoubtable owner, Mr. Shanbag, recently passed away. My mother would give me a free run at the book shop and I would place a little pile on Mr. Shanbag's desk to take home. I think she cut down on her selections to accomodate mine. Sometimes we would go to Book Point, a shop near Ballard Pier.
There is nothing I like better than telling people which children's books I have enjoyed. A and I still do read a fair amount of children's literature and though we aren't up to speed with a lot of the newer authors, the authors mentioned below should still find a place in a child's library. The list below concentrates on non-Indian writers and books available in English and is not at all comprehensive. Hopefully one day I will be able to do a list that includes Indian literature.
Many books I read fervently and occasionally re-read now, but do not consider essential, have been left out, such as the Chalet School series. Aishwarya blogs about this series as well as children's writers and the pitfalls of such advice as giving your hair a good, hard brushing until your scalp tingles.The more recent and well-known series such as Harry Potter do not feature in this list either.
I haven't mentioned what age which book is appropriate for-that research can be left to the parents who can decide what they think is appropriate. Also, deciding on "age appropriateness" is often a highly subjective process, both for parents and children.
Here are some books/authors I think a children's library MUST have:
1. To Kill a Mockingbird by Harper Lee. If you're an adult and haven't read it, read it now. My sister R2 identified strongly with Scout, as she also used to sit on my father's knee, behind the newspaper.
2. ALL of Diana Wynne-Jones. She was around much before JK Rowling and really understands magic and the way it works-without wands. In particular I'd recommend the Chrestomanci Series (start with The Chronicles of Chrestomanci, Volume 1: Charmed Life / The Lives of Christopher Chant), Dogsbody, Archer's Goon, Howl's Moving Castle and The Merlin Conspiracy.
3. Noel Streatfield who wrote wonderful books about children on the stage. I think her most popular book is Ballet Shoes, but my favourite is Curtain Up (later published under the not so appealing title of "Theatre Shoes").

4. Gerald Durrell-for a love of animals, nature, and his sense of humour.
5. James Herriot-essential for the same reason as above, but told from the point of view of a vet or a naturalist.

6. The Moomin series.
7. The Lord of the Rings. I am not a fan but A would be very unhappy if I did not include it on any "must have" list.
8. Asterix comics. I prefer those by Goscinny, i.e. the older ones.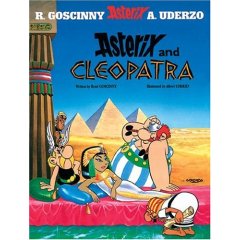 9. Tin Tin comics(not a fan again, but appreciate it from a distance).
10.The The Anne of Green Gables series (Anne of Green Gables, Anne of Avonlea, Anne of the Island, Anne of Windy Poplars, Anne's House of Dreams, … Rainbow Valley, Rilla of Ingleside) by L.M Montgomery is well known and well recommended but the Emily of New Moon series is well worth reading too.
11. Everything by Garth Nix. His books have a lot to do with death, especially the The Abhorsen Trilogy Box Setseries, and can be quite frightening, but ultimately they are about overcoming fear. I think you should be over ten or eleven to read them. Start with Sabriel, she's lovely.
12. Everything by Philip Pullman, though you/your child needs someome to hug after reading the The Amber Spyglass (His Dark Materials, Book 3), the last book in theHis Dark Materials Trilogy (The Golden Compass; The Subtle Knife; The Amber Spyglass). They are available in one volume or separately.
13. The Phantom Tollbooth by Norton Juster. Was delighted when I met Chox recently for all of twenty minutes and her two precious girls and the elder one had her nose buried in this book. Please READ THE BOOK FIRST before watching the film! I received a second-hand copy from friends of my parents who lived in the US, whose son had read it. Read it 'til the pages fell out. It's all about a bored little boy called Milo, who gets a magic tollbooth as a present and enters a world that isn't so boring after all. This is a book that reveals something new after each re-reading-it's full of puns and wordplay and mathematical fun.
14. All of Astrid Lindgren. My favourite from the ones I read was Ronia the Robber's Daughter. The most popular is the Pippi Longstocking series, my favourite is Ronia the Robber's Daughter.
15. Roald Dahl. I've gone off him but he is a phenomenon.
16. Philippa Pearce wrote gems like TOM' S MIDNIGHT GARDEN and The Way to Sattin Shore.
17. All of Nina Bawden. My favourite is Carrie's War. The context is the time during WW2 when children in London were evacuated to the countryside. But Bawden has a way of understanding how a young person might see the world, an understanding that many may find universal.
18. All of Jane Austen, of course.
19. The Bronte sisters-particularly Jane Eyre, Wuthering Heights and perhaps Agnes Gray as well.
20. Louisa May Alcott. Little Women , Good Wives, Little Men, Jo's Boys.
21. Edward Lear's The Complete Verse and Other Nonsense.

22. T.S Eliot's Old Possum's Book of Practical Cats. Essential to understand the feline mind.
23. All of E. Nesbitt, in particular The Railway Children.
24. Jane and the Kenilwood Occurrences. This book was picked up for me by my mother at Book Point, for Rs. 20. Loved it deeply. Some years later, someone borrowed it and never returned it. Fast forward to several years later, when A tracked it down second hand and gave me a copy for a birthday along with my first laptop. Now no one is allowed to borrow it. It's out of print now, but I've seen it on ebay and Amazon. Buy it now if you can, before it disappears and becomes totally out of reach. It's about a very special relationship between a girl, Jane, and her eccentric grandfather, who can make things happen with his "thoughts." What these "thoughts" do to a quiet English village and Jane and her family forms the substance of the book, hilarious and tender at the same time.
25. Playing Beatie Bow, by Ruth Park an Australian writer. It is a romance but suitable for those aged around 12+. Very tenderly written book about growing up and friendships, but also includes time travel. I still read it often-there's something about it that just stays with you, a certain warmth, that makes you want to keep going back to it.
26. Carbonel: The King of Cats The Kingdom of Carbonel and Carbonel and Calidor by Barbara Sleigh. Carbonel is a talking cat and "belongs" to a girl named Rosemary (or is it vice-versa? With cats one can never be sure). Written a long time ago, but magical even today.
27. Books by Helen Cresswell. I was much taken by the Bagthorpe Saga , but I don't know how well that would go down today. The Piemakers and Lizzie Dripping remain perennial favourites. I wrote to Cresswell from India as a child, and she made my day (and year) by replying.
28. Betsy Byars: Haven't kept up with all her books, and she's written some new ones. She writes for all ages.
29. Margaret Storey's (not the mystery writer) Melinda Farbright series. Melinda Farbright is a witch, and a very special part of the life of two children, Timothy and Ellen. The books are absolutely wonderful, haunting, scary and of course magical, but not too scary, because Melinda is a safe reassuring presence throughout.But they are out of print. Some are available second hand. I'd snap them up.
30. Another Margaret-Margaret Mahy from New Zealand. Lots of books to choose from.
31. Susan Cooper-The Dark Is Rising Series (The Dark Is Rising, Greenwitch, Over Sea, Under Stone, Silver on the Tree, The Grey King) is her most famous work.
Please do add your own favourites in the comments, especially if they aren't Enid Blytons and Roald Dahls. Might feel inspired to do another post based on your recommendations (please add a few details about the books if you can), or feel free to take it up as a tag.
Related Posts: